Regular price
Rs. 1,299.00
Sale price
Rs. 799.00
Unit price
per
Sale
Sold out
"The most mesmerizing fidget I've ever tried."
Introducing Magnetic Shape Shifting Box, an innovative fidget cube with multiple rare earth magnets that transforms to reveal vibrant artwork and designs. Over 70 unique shapes are possible allowing for playful and curious discovery that doubles as brain-teasing fun. Let the creative juices flow and delight in a constantly evolving display of beauty as the imaginations run wild!
WHY WILL  MAGNETIC SHAPE SHIFTING BOX CHANGE YOUR LIFE
✅ Inspires Creativity: Magnetic Shape Shifting Box nurtures abstract thinking, intelligence, and engineering skills in ever-changing play. Immerse in a challenging quest to transform into specific shapes and back into the original cube. 
✅ Endless Screen-Free Entertainment: Magnetic Shape Shifting Box features 36 rare earth magnets for an innovative design that transforms into over 70 shapes! Explore never-ending curiosity while discovering various complex designs and combinations.

✅ Sensory Stimulation: Precise dexterity and hand-eye coordination is naturally encouraged to manipulate Magnetic Shape Shifting Box to transform. With every satisfying click, soothe away stress and nerves and improve fine motor skills.
✅ Collect and Connect:
Magnetic Shape Shifting Box
is built with a robust internal magnet system, allowing for connection to other cubes to create even more intricate structures and sculptures. Collect all designs to construct unique, dazzling 3D art!
✅ Superior Quality: 
Built with premium injection-mold plastic and a tear-proof surface,
Magnetic Shape Shifting Box
is resistant to potential breakage. Each cube features distinctive, stylish patterns of colorful, mesmerizing artwork for a constantly changing display of beauty.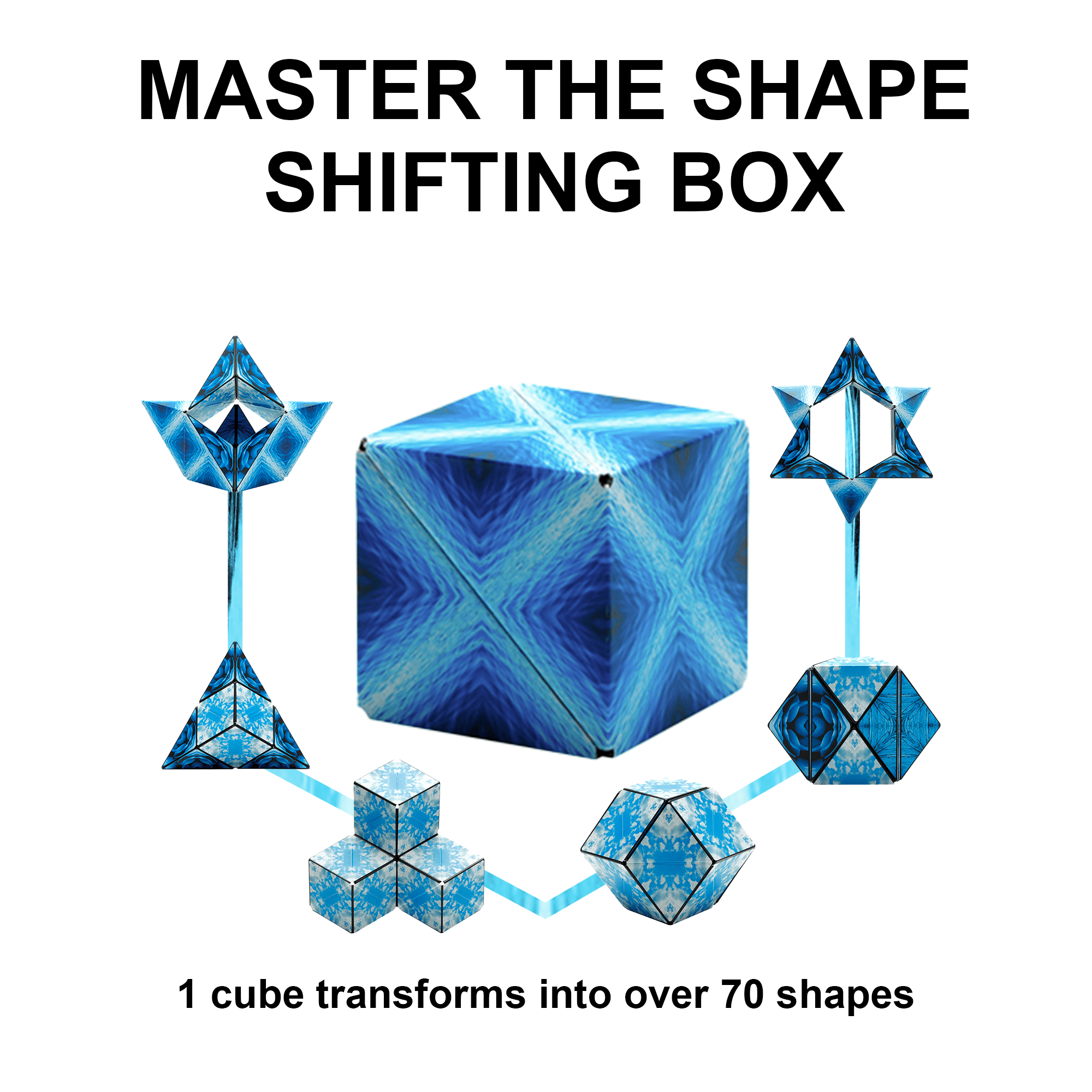 ✅ Collaborative Activity: Magnetic Shape Shifting Box offers a fun and collaborative experience for a wide range of individuals. Children, parents, and caretakers can work together to create different shapes, promoting social development and communication.
We understand the hardship of searching for a toy that provides a satisfactory play experience and prioritizes cognitive development. The inability to find a proper creative energy outlet for a child can leave you feeling frustrated and lost. A study published in the Journal of Pediatrics found that children who had fewer toys, activities, and played less frequently displayed lower cognitive scores.
Thankfully,
Magnetic Shape Shifting Box
offers long-lasting screen-free entertainment that aids in the development of thinking skills. With a robust magnet system, it can be transformed into a multitude of complex, colorful configurations that inspire any child's imagination.
Upgrade your child's playtime, providing an interactive and thought-provoking experience that will keep them fascinated for hours!

Share
View full details